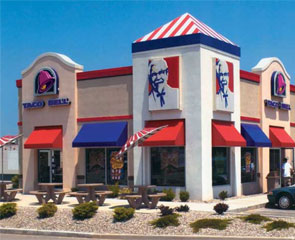 The worlds largest KFC franchise, Harman Management Corp, has Flashpoint™ installed and running in all of it's 360 plus stores including combination stores with multiple concepts including KFC, Pizza Hut, Taco Bell, and A&W (see testimonial under clientele section).
Possible Configurations
Front Counter Quick Food Stations
Fast Line Customer Order Entry
Packing Monitor for Each Front Counter Station
Kitchen Preparation Monitor for Drive Thru
Drive Thru Order Taker Station
Drive Thru Cashier Station
Packing Monitor for Drive Thru Cashier
Drive Thru Display Board
Preparation Projection System
Integrated Electronic Menu Boards.
Back Office Station
Front Counter Quick Food Station
Fast and Easy
Flashpoint™ has dramatically simplified the fast food order entry screens. The counter cashier simply has to follow the steps that Flashpoint™ displays, and close the check when finished.
Fast Line
Customer Order Entry
Order placing is simplified to the point that customers may place their own orders. Just set a kiosk on the floor and Flashpoint will step the customer through the ordering process. Adding voice commands will also aid in the customers order placement. When the order is complete the customer simply places the order and it is sent to a cashier's station ready for payment.
Packing Monitor for Front Counter Stations
Speed and Efficiency
One person takes the order at the front counter while another uses the packing monitor to fill the order. As the sales items are selected at the front counter, they are immediately displayed on the packing monitor. With this method, orders should be packed by the time the customer pays.
Drive Thru Stations
Effective Task Co-Ordination
Supports multi-lane and multi-window locations. As orders are placed, they are sent to kitchen preparation monitors, packing monitors and the drive thru cashier station on a first in, first out basis. For single window locations, Flashpoint™ supports a combination drive thru order taker/cashier station.
Drive Thru Display Board
Flashpoint™ interfaces to drive thru display boards that display the orders to the customer as they are placed. The display boards also provide you with advertising, and reduce errors.
Preparation Projection System
Based on a projection of past sales in combination with live sales, the Preparation Projection System informs the cooks of what currently needs to be prepared. The system virtually eliminates over preparation and waste.
Integrated Electronic Menu Boards.
Have Flashpoint display all of your menu items and even videos for the customer. Change the prices in flashpoint and they automatically change on the menu boards. You can use HD televisions and save thousands, or use external menu boards. Making high res videos of certain slow selling, or higher priced menu items can also help increase sales on those items.
Back Office Station
Use the back office station for confidential reporting and daily management needs, allowing the POS stations to be dedicated to order processing.